Mobile entertainment electronics is our passion. Every time we innovate, we make our systems even faster, even better, even simpler. For the nicest days of the year, we deliver your favourite series, films and sports directly to your home. No matter where that is.
The alphatronics ONE is all about integration and convenience. Thanks to our One-Cable Solution, you can conveniently operate your OCS-compatible alphatronics TV set and the alphatronics ONE using just one remote control or via the alphatronics ONE app.
The future of the mobile SAT system.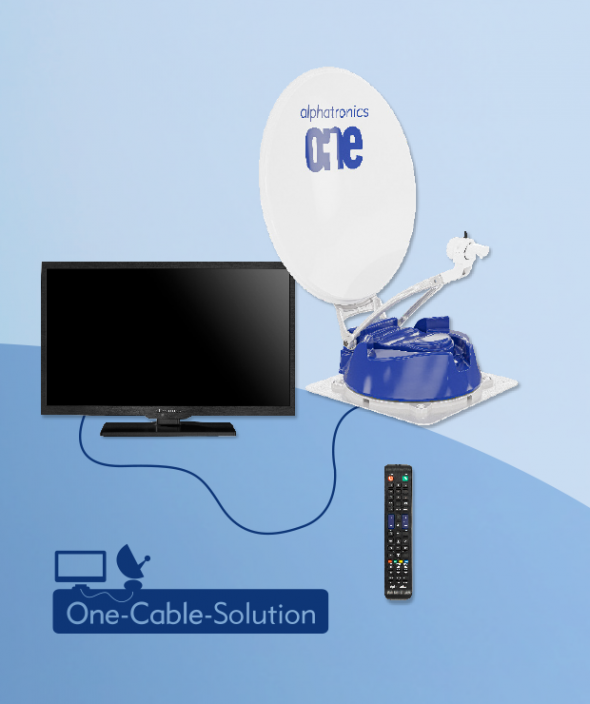 ONE CALBLE FOR ALL OCCASIONS
Operate all components centrally via just one remote control or the alphatronics ONE APP
SAT antenna, receiver and TV set. Three systems that have three different controls means that oftentimes you have the wrong remote control in your hand. Our One-Cable Solution (OCS) now puts an end to this.In combination with an OCS-compatible alphatronics TV set, you can control everything centrally via the TV menu. From the alignment of the SAT antenna to the channel and volume. Conveniently using a single remote control.
Only one coaxial cable connects the SAT rotary unit to the TV set. It transmits the SAT signal and the control commands for the alignment of the antenna. Beyond that, it needs no additional control devices, no external receiver or other equipment. Your alphatronics OCS TV set simply becomes the control centre for your entire SAT system.
No additional external control unit
Only one cable between the TV and the rotary unit (coaxial cable) – feedback signals from the SAT system are displayed on the TV
Convenient setting directly via the TV menu with just one remote control or the alphatronics ONE APP
Very easy to install
Optimised weight
Space-saving
Lower electricity consumption
The future has begun!
INNOVATION FOR EVERYONE
You'd like to combine the latest SAT reception technology of the alphatronics ONE with an existing TV set? The alphatronics control box makes it possible.
With the alphatronics control box, the alphatronics ONE world awaits you, because it's compatible with all TV sets.
The control box connects your TV set with the alphatronics ONE and thus brings the latest SAT reception technology into caravans and motorhomes.
Convenient setting directly via the TV menu with just one remote control or the alphatronics ONE APP
Compatible with all mobile TV sets
Space-saving installation due to low installation height
Optional LCD display available
High-quality and sturdy metal control box
Perfectly retrofitted!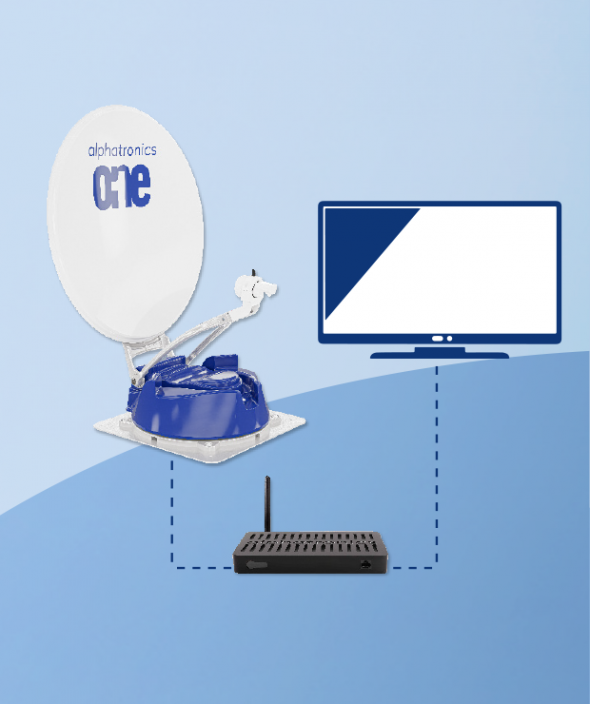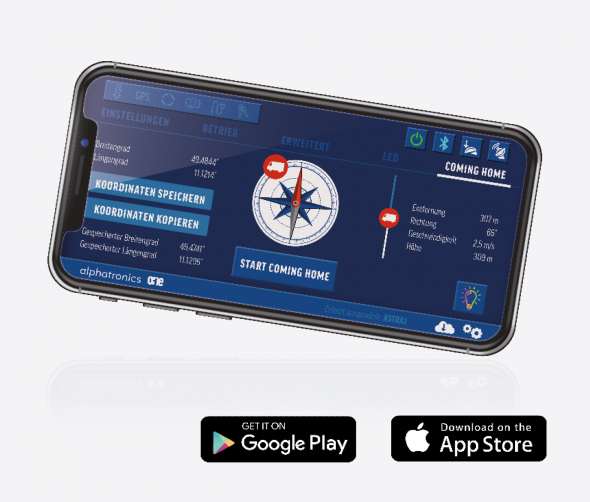 SAT becomes smart
The alphatronics ONE app makes operation child's play. Using your smartphone or tablet, you can conveniently operate the system and set services such as the COMING HOME function according to your wishes.
Features of the alphatronics ONE app:
Satellite selection
Retracting/extending the antenna
Battery status display
Signal strength and quality check
OTA update of transponder data
Setting the COMING HOME function
Operation of the LIGHT SYSTEM
Manual joystick for fine calibration
Regular software updates are available in the App Store.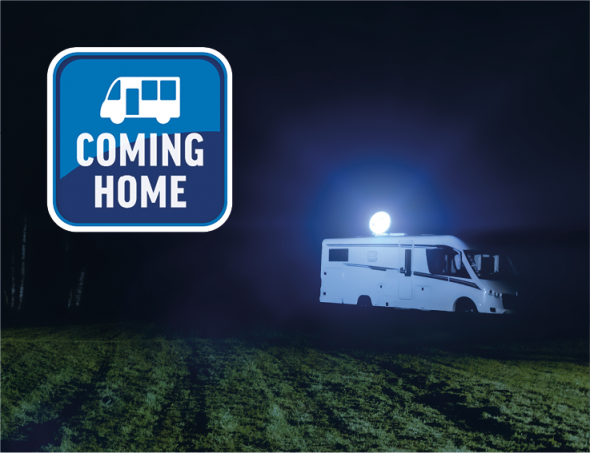 SIMPLY GROUNDBREAKING
Unique, helpful and clever: With GPS signal and integrated LED illumination of the antenna mirror, the alphatronics ONE shows you the way home.
Simply open the ONE app and start the COMING HOME function. Your smartphone or tablet will reliably guide you back to your vehicle. As soon as it is in sight, the alphatronics ONE lights up – if you wish – in the colour and intensity you have previously set. What a reception.
We'll get you home safely!
A BRIGHT RECEPTION
Are you inviting your friends to a barbecue in the evening? Light their way and create a wonderful atmosphere. Thanks to its integrated high-performance LED lighting, the satellite mirror of your alphatronics ONE shines in every colour of the rainbow. From discreet to gaudy.
And the best thing is: with the alphatronics ONE app, you can control colour, effects and intensity directly from your deck chair.
Innovation down to the last detail!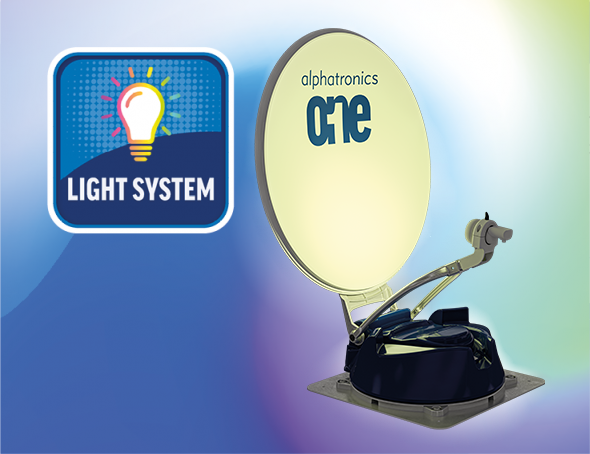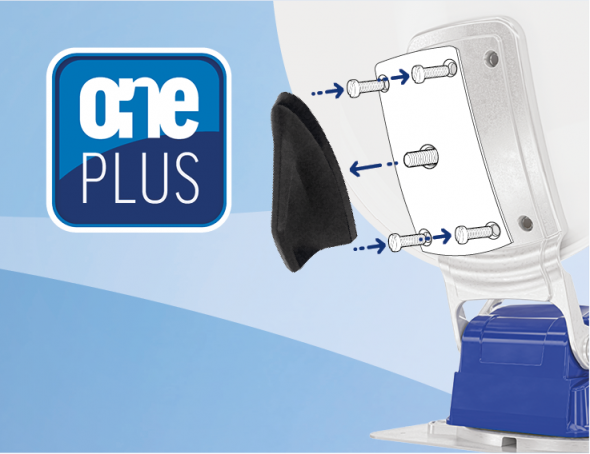 RETROFITTING MADE EASY
It's not possible to avoid holes in your roof. But it's good if there are as few as possible.
That's why the alphatronics ONE SAT antenna can be flexibly expanded to include additional types of reception (DAB+, DVB-T2, LTE/WIFI). No additional cables need to be run for this. Your drilling machine can stay in the cupboard.
Retrofit DAB+, DVB-T2 or the LTE/WIFI very easily
One installation location, one installation procedure, one roof penetration
Central control via remote control or thealphatronics ONE app
Reduction of potential leaks in your motorhome's roof
More space on the roof
ALWAYS RECEIVING
With its integrated GPS module, the alphatronics ONE always knows exactly where it is. This enables the highest precision in automatic satellite searching.
Thanks to its SKEW function, the alignment of the signal converter (LNB) can also be adjusted. This fine adjustment ensures reception even in the satellites peripheral areas. If desired, this can even be done automatically via an additional electric motor.
So once again in simple terms: whether Northern Norway or Southern Italy, reception is always optimal – without you having to climb on the roof.
Perfectly aligned at all times!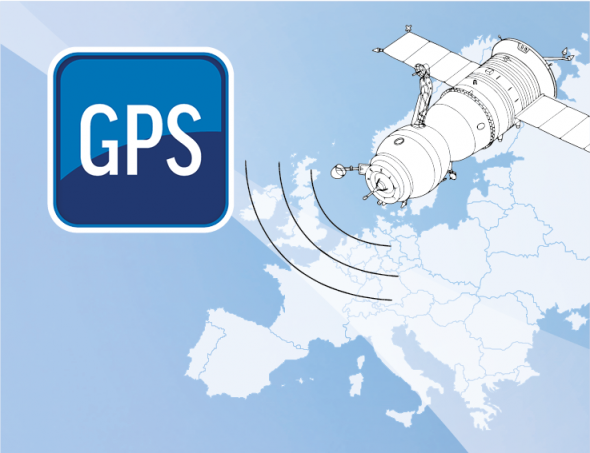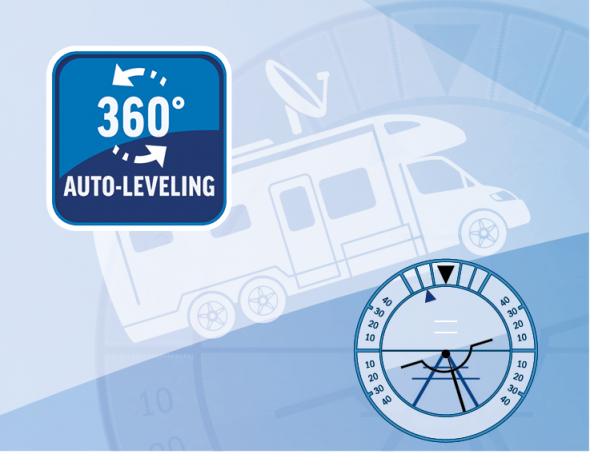 OFF-BALANCE? NO PROBLEM
To always deliver perfect reception – that's the mission of the alphatronics ONE. With our unique AUTO-LEVELLING system, we've come a little closer to this goal.
An integrated position sensor supplies data to the control unit. Thus, the alphatronics ONE finds the best signal for a nice afternoon's TV viewing at any time and at any location. Now all that remains is for your favourite club to deliver a similarly good performance.
Optimum reception on any surface!
GONE WITH THE WIND? ONLY IN THE MOVIE
The alphatronics ONE was already aerodynamically validated during its design.
Its low air resistance protects the system and other roof structures, but above all your ears. Because the less turbulence created, the quieter it is in your motorhome on long motorway journeys towards your dream holiday.
Well thought out down to the last detail!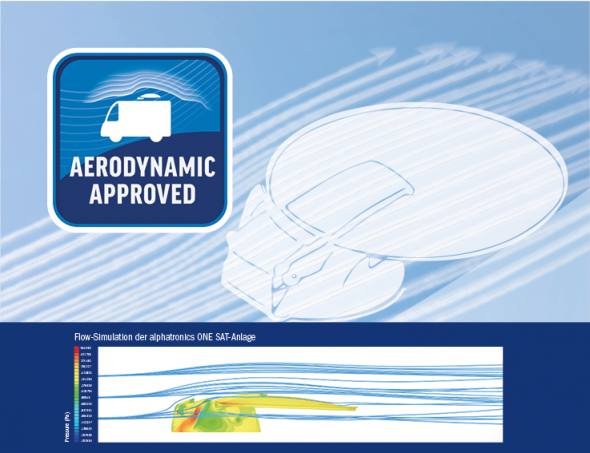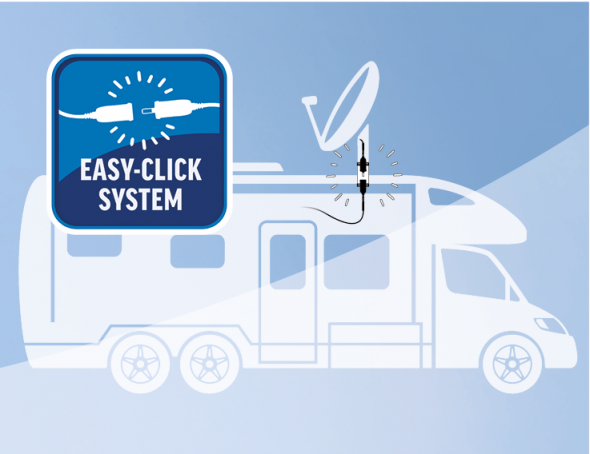 THINKING ABOUT TOMORROW TODAY
Our high standards don't end with a service call. System disassembly or replacement must be possible quickly and easily at any time.
Thanks to our EASY-Click system, the SAT system can be dismantled without having to remove the entire wiring harness. A watertight connection point separates the wiring harness inside the vehicle and the SAT system on your vehicle's roof.
one installation situation via a uniform base plate
one basic mechanism, service-friendly upgrade options
Service-friendly!
Service made easy!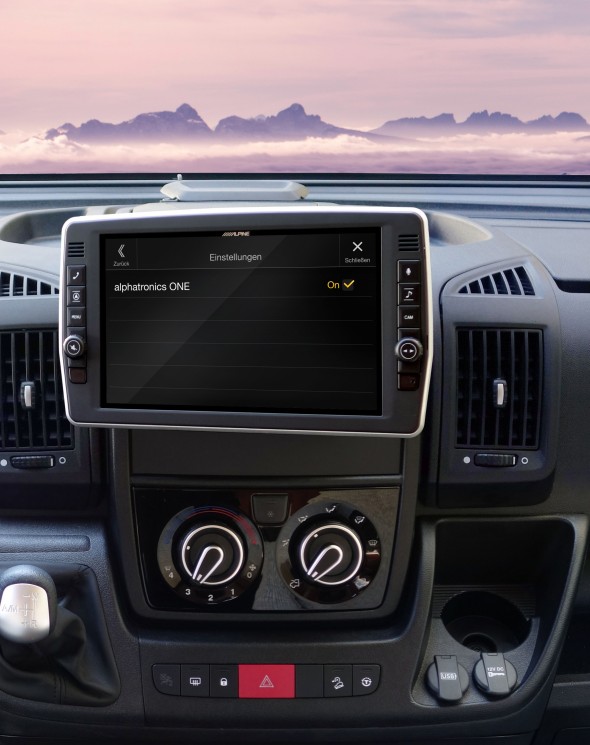 IT CAN BE THAT SIMPLE
We see ourselves as a system provider. This means that we listen to our customers and work hand in hand with our partners. The result: features that make sense.
You're sitting relaxed in the driver's seat and are ready to continue your journey. Is the SAT antenna retracted? You're not sure? No problem: Your alphatronics ONE SAT system can be conveniently controlled via the Alpine navigation system. A feature that will delight you.
Convenient control of the alphatronics ONE via the Alpine navigation system
Retracting and extending the SAT system from the driver's seat
AN INCREASE IN YOUR SAFETY
What do you get when two market leaders in their fields aren't satisfied? Something unique! Discover the joint concept of THITRONIK® and alphatronics – your motorhome will now be an extra bit safer.
Light at night in particular is an effective way to protect against burglary. A well-lit house is demonstrably less likely to be visited by criminals. The same goes for your motorhome. No burglar likes to be caught in the act.How does that work? The answer is quite simple: In the event of an alarm from the THITRONIK® system, the alphatronics ONE also starts to light up immediately. You define in advance in the alphatronics ONE app whether this is done as a flash or other light signal.Your THITRONIK® alarm systems offer you reliable protection for your motorhome. And as of now, another factor for more safety is added: the integration of your alphatronics ONE SAT system as an additional visual signaller.
More attention at night
Effective burglary protection through an additional visual alarm from the alphatronics ONE
Convenient operation via the alphatronics ONE app
This feature will be available from Q1 / 2022.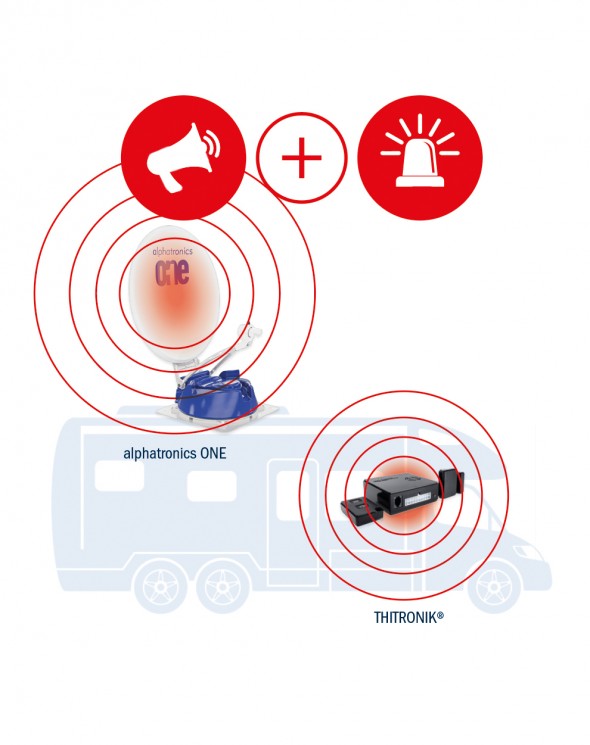 Do you travel a lot in the outskirts of Europe or more in the centre? Have you installed two TV sets? Do you stay in one place for three weeks or somewhere else every day? To meet every need, you can choose from eight different configurations.

alphatronics ONE TWIN feature
Both alphatronics ONE SAT systems are available with a TWIN-LNB. This has two SAT connections and enables the reception of two different TV programmes on, for instance, two TV sets.
alphatronics ONE SKEW function
The SKEW function stands for more coverage in the peripheral regions of Europe. In the SKEW version of the alphatronics ONE, a specially developed LNB motor ensures fully automatic LNB alignment.